Strategy - Mindset - Implementation - Personal Attention
Learn what it takes to get clients all up in your (online) business >> FROM THE COMFORT OF YOUR OWN PANTSLESSNESS.
JOIN NOW AND GET ACCESS TO OUR LIVE ROUND OF UYB HAPPENING OCT 20 - NOV 10
PLUS GET ACCESS TO A FULL YEAR OF COACHING AND SUPPORT AFTER THAT!!!
Strategy - Mindset - Implementation - Personal Attention
Learn what it takes to get clients all up in your (online) business >> FROM THE COMFORT OF YOUR OWN PANTSLESSNESS.
GET ACCESS TO A FULL YEAR OF COACHING AND SUPPORT!!
TO BE IN BUSINESS, YOU NEED CLIENTS.
Except so far, it's mostly crickets (other than your mom cheering you on. Thanks, Mom!)
You're working hard but you still feel:
Fuzzy (and not in a fun, margarita way)

Unfocused (so many things to do, so much Netflix to watch)

Frustrated (worse than when the Wifi is slow)
Nothing you're doing seems to be working-and you're doing a LOT! (Or maybe you're in the camp of people who have stopped doing anything at all, because it's super defeating to work so hard with no results).
YOU KNEW STARTING A BUSINESS WOULD BE HELLA HARD,BUT YOU'RE STARTING TO WONDER…
Is it normal for it to be THIS hard
Wasn't this supposed to be at least sorta fulfilling and freeing?
Also, like, NOW WHAT?? ('cause it feels like you've tried everything)
Having a full-time business (that makes money), not a hobby (that takes money)

Serving clients you legitimately love

Paying your bills (with money to spare for trips, family, and booze, and bread-all the essentials AND some luxuries, dammit),

Being recognized as a business owner and a leader in your industry

The constant hustle for clients to be OVER (boy, bye!)
Someone else said "get on social media!" so you got on allthesocialmedia. Crickets. Plus some randos trying to sell you shit in the DMs.
So you figured you just had to work harder, put more time in, make some reels… More crickets.
So you tried networking by aimlessly joining FB group (they said this would work!)... instead you have 1000 FB friend requests and still no clients
You know you MUST be missing something! So you took programs (so many), and signed up for every free marketing training and webinar under the sun (SPAM count: 11,452)
Maybe you even went down the rabbithole of trying ads ($$$), or making a webinar, or trying to make a funnel (WTF even is a funnel!?)
And maybe you're asking yourself: "Is this worth it? Do I really have to flog myself just to get crumbs of business?"
Then it gets in your head.
"Why did I bother doing that (expensive) coach training course in the first place?!"
Another hard truth:

Everything you've been trying on your own for marketing is not actually helping you get clients, make money, or get any closer to your dreams.
Because coaching courses only teach you how to help clients once you've got clients (but getting the clients? That's on you.)
You invested in your coach/nutrition/healing training.
But you didn't realize you would have to also invest in business training.
WHAT YOU NEED IS SOMEONE TO TELL YOU WHAT TO DO

BASED ON THE STAGE OF BUSINESS YOU ARE IN NOW
(and not teach you strategies that only work once you are already successful)
MOST COURSES TEACH YOU

STEPS 5-10…
But what you need are steps 1-4 - the foundations that will make ALL the rest of your marketing actually work.
But not many people talk about this, and certainly not all those shiny courses you see advertised online. Because it's not a tactic, or a strategy, or a sexy "6-figures in a month!" gimmick.
It's a methodical process of figuring out who you serve (your niche), what you offer them (your package), and how to sell it in a way that makes them want to buy (how you talk about what you do).
That, along with some serious focused action, and some strong mindset work,
is what it really takes to get clients.
UYB IS

THE BEST INVESTMENT

I HAVE EVER MADE IN MY BUSINESS
But not many people talk about this, and certainly not all those shiny courses you see advertised online. Because it's not a tactic, or a strategy, or a sexy "6-figures in a month!" gimmick.
It's a methodical process of figuring out who you serve (your niche), what you offer them (your package), and how to sell it in a way that makes them want to buy (how you talk about what you do).
I BOOKED MY

VERY FIRST PAYING CLIENT

IN MY BRAND NEW BUSINESS!!
If I hadn't joined UYB, I'd still be blindly applying to every run of the mill job I didn't want hoping for something to magically happen for me. UYB gave the the drive to stop waiting and just START. The program has given me the confidence to speak about my business as if it's actually real and happening (not just a goal or any idea anymore). The program really helps turn down the noise and cut the crap around what I should be spending my time on and what is a waste of time. I trust Becca and Erin's advice and guidance because they have been on this journey themselves and share so openly where they started. I am no longer afraid to put my work out there and tell people about my business with confidence!
- KELLIE KING, BEAUTY BRAND MARKETING EXPERT
LET ME PROPERLY INTRODUCE MYSELF
Since 2011, I've been helping new business owners (over 1500+) take focused action on the things that actually make a difference when it comes to getting clients.
Like YOU, I started by doing all the hard things that got ZERO results. I took all the courses, followed all the "rules," and made about a bajillion mistakes that taught me A LOT about what NOT to do when starting a location independent business.]
MISTAKES

YOU MIGHT BE

MAKING TOO:
YOU TELL PEOPLE YOUR JOB TITLE (life coach, writer, designer) and expect them to know WTF it means (no one cares what a life coach is, #sorrynotsorry)
YOU TRY TO SELL VAGUE PACKAGES based on length of time, like 3 months, 6 months, 12 months… (nope!)
YOU'RE SPENDING 10,000+ HOURS (or dollars) BUILDING A WEBSITE before you're clear on WHO you serve, WHAT you do for them, and HOW you do it (waste of time)
Listen… I made all of these mistakes (and more) before I finally got clear and got clients (all while traveling cross-country in a van with my then-boyfriend - living the dream/the dirtbag life lol).
The secret no one whispered to me (but I'm here to whisper to YOU) is this:
NO AMOUNT OF TRAININGS, COURSES, AND "TACTICS" CAN WORK

IF YOU ARE NOT CLEAR ON THE BASIC FOUNDATIONS OF BUSINESS…
I know, I know. "Foundations" doesn't SOUND sexy (which is why so few business coaches talk about it).
But you know what IS SEXY?
Getting clients! Clients that find YOU on the internet! And PAY YOU.
OVER AND OVER AND OVER AGAIN. #BUSINESSGOALS
Once I NAILED the foundations, and helped other solo-preneurs do the same -- I saw that it actually wasn't so hard and painful to build and run a successful business.
THAT'S WHY I CREATED


UNCAGE YOUR BUSINESS
SO WHAT ARE THESE FOUNDATIONS
YOU SPEAK OF, BECCA?
The FOUR FOUNDATIONS YOU must have in place before you waste hours (or years) creating that website, email funnel, e-book, Instagram profile, YouTube channel, webinar, group program, etc etc etc (yeah I see you) ARE:
A SPECIFIC,
PROFITABLE NICHE
Makes it crystal clear to everyone you speak to EXACTLY how you can help them (or someone they know). (um hi, REFERRALS #moneydance)
Lets you create content that speaks directly to those clients you're dying to work with!
A NICE PACKAGE (HEHE) AND PRICE
So you're not fumbling on consults or leaving people scratching their head when they read your 'work with me' page (cha ching)
(oh, and BALLS - yeah, I said it) because then you have to go put all these shiny new foundations out there for the world to see (we show you how to do that)... but putting it all out there takes courage and the right mindset and strategy… and we give you those too.
I created Uncage Your Business to help you SOLIDIFY these foundations,
'cause then - and only then - will clients come banging on your virtual door.
YOUR FIRST YEAR IN BUSINESS IS A ROLLERCOASTER!
Uncage Your Business used to be offered over the course of a month, but while a month IS actually enough time to get your FOUNDATIONS down, it's not enough time for…
Shit to happen.
Or… Shifts to happen.
Because a lot of shifts happen in your first year of business, and you're going to need more than 5 weeks to implement, tweak and refine.
There are SO many ups and downs in your first year.

you start with the best intentions but then:
Your First year of Business
Even if you are able to dedicate full time hours to your business when you're new, there is still an UNAVOIDABLE process of testing and tweaking and refining everything from your niche, to your packages, to your prices and your marketing - nothing is one and done, ever, but especially when you're new.
This is why I changed UYB from a month-long blitz to including a year of support! The curriculum will take you 5-8 weeks to complete (hello clients in less than 2 months!), but we will be here for you during a full year as your business is evolving FAST and you have SO MANY QUESTIONS!
Don't you wish you had a team on call to answer them?
FROM FOUNDATIONS TO SUPPORT, WE'VE GOT YOU COVERED
UYB is an 8 week curriculum , with 12 months of support, PLUS
4 FOUNDATIONS MODULES TO GET YOU CLEAR AND CONFIDENT IN YOUR BUSINESS (designed to be completed in just 8 weeks!)
12 MONTHS OF PERSONAL ATTENTION AND FEEDBACK FROM ME AND MY TEAM OF EXPERTS (so you have help as your business grows)
DAILY FEEDBACK in our private community to make sure you stay on track
COACHING CALLS where you can ask questions and get feedback
MINDSET SUPPORT so you don't let your fears get the better of you
COWORKING SESSIONS so you uphold your commitment to doing this thing!
MASTERMIND SESSIONS so you can brainstorm with your fellow UYBers and build a network of BFFs (Biz Friends Forever)
AND SUPPORT & ACCOUNTABILITY FROM A PRIVATE GROUP OF ENTREPRENEURS LEARNING ALONG WITH YOU
greater clarity about

who i serve

and how i serve them
This course will require you to do the 'down and dirty' work that is necessary to nail your niche. It isn't all about worksheets and hand waving but rather real reflection, dialogue and iteration around what you are uniquely positioned to do and how you can solve problems for others. This course provided the tactical focus that I desperately needed. I've developed a program package that I feel fantastic about and that I believe will really meet the needs of my clients!
- LATONDRA MURRAY, PRODUCTIVITY COACH & SPEAKER
i can see

the light at the end of the tunnel

and i'm excited now!
Take the course. It will change your life and your business. I was extremely hesitant because of the financial commitment, but now the money seems like a drop in the bucket! This course was more than I thought it would be - I didn't count on feeling so jazzed up and excited all month. The course receives you warmly, but challenges you and kicks your ass forward the whole time. You can't help but be caught up in the energy and the opportunity. It's been like a month long dance off and I won the prize of clarity!
- HEATHER NELSON, HORSE TRAINER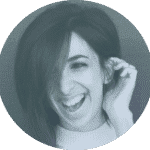 I wish i

took this program sooner!
OMG I loved it! I I took UYB EARLIER rather than waste my time and money on other programs (B-School included EEEK!) that were a bit too far ahead for a newbie like me. I 100% recommend UYB to anyone thinking about starting a new biz....start here first! Cannot express how much of a difference this program style and the module set-up made. I actually felt like I was making progress, which felt AMAZEBALLS! I am actually excited to tell people what I do with confidence...no more squirming in my seat every time someone asks me what I do. Each module was easy to digest and basic, not an overcomplicated hurdle. Becca's teaching style is TOTALLY my jam!
- ASHLEY DE FILIPPIS, BEAUTY BRAND EXPERT
HERE'S HOW


UNCAGE YOUR BUSINESS WORKS
Here is what you will learn in out 8-week curriculum:
Module 1:

UNCAGE YOUR NICHE
Niche like a boss so your value is clear and clients start coming to YOU.
in this module you'll learn...
this was the

most valuable

part of the program for me!
I was a generalist before so this really helped me get specific on who I wanted to work with and on what issues. I made my money back with clients I got during the program because of this!
- MEGAN CAPER, MEDICAL INTUITIVE
MODULE 2:

UNCAGE YOUR MESSAGE
Articulate a passionate and clear MESSAGE that helps you STAND OUT.
in this module you'll learn...
the market research module was

undoubtedly the most valuable

part of uncage your business
Before this program, I'd heard I needed to be testing, and doing market research, etc., but UYB made it concrete and clear. All the templates were also SO valuable!
GRAESON HARRIS-YOUNG, WHOLEBODIED COACHING
Module 3:

UNCAGE YOUR PACKAGES + PRICING
Create the perfect packages + pricing to nail your client consultations!
No more generic offers. This week we dig into packaging-creating the right services for the right people, huzzah!
in this module you'll learn...
I FEEL CLEAR ABOUT

MY WAY FORWARD!
Because of UYB, I put together my first package (and was clear enough with who it was for!) that I quickly got a handful of beta testers in the first few hours of posting! Before UYB, I only had one paying client ($5 per session if you can calling that paying haha). I didn't really have a clue about what I was doing in terms of business, how to get started, etc. My business wasn't happening at all. Now, I feel clear about my way forward and can speak with confidence about who I help and how I help them!
- ALLISON COLIN-THORNE, CAREER COACH
Module 4:

UNCAGE YOUR MARKETING
Zero in on your best "elevator pitch" and get yourself OUT THERE! (Beyond your comfort zone, but in a good way!)
in this module you'll learn...
I WAS READY TO GIVE UP

RIGHT BEFORE I MADE THE DECISION TO SIGN UP FOR THE COURSE.
My goal was to find two paying clients in May, and I just got my third yesterday (someone I had no previous relationship with!)
Sincerely -- I cannot thank you all enough for the guidance I received in UYB. There's no way I would have an active business without it, I was ready to give up right before I made the decision to sign up for the course. THANK YOU! THANK YOU!
- AVRAHAM MAISTRI, LIFE COACH
HERE'S

EVERYTHING INSIDE UYB
All students now get one full year of coaching, feedback and support! That's 6 live coaching and feedback/review calls every single month, for a full year!
This means you can whip through out 8-week curriculum and get those clients in the door ASAP, and then we will be here for you as you tweak and grow and create new offers throughout the year!
Here is what is included in your YEAR of support:
LIVE Q&A SESSIONS WITH BECCA + UYB MINDSET COACH

(Monthly)
Need feedback and coaching on your core work around messaging, niching, packages, and pricing? No problem! You'll get access to both Becca and our mindset coach every month in Live Q&A calls.
You'll get to ask any questions and get feedback on your foundations, iron out any niggling bits (lol, niggling bits) of confusion, receive personalized business and mindset advice, and make sure you're right on track.
COPYWRITING REVIEW CALLS

(Monthly)
There's nothing more fun than staring at a blank screen, knowing you need to come up with something for your website or email list and drawing a blank. NOT!
Get wisdom straight from the brain of our Uncaged copywriter, who will review your submitted copy and give you tips and tricks on how to clearly craft your magnetic message so you can get more engagement, drive more traffic and land more perfect-fit clients online.
These monthly mindset sessions will help cure your mindset meltdowns! This isn't about just mindlessly cheering you on - it's about getting to the ROOT of what is holding you back in your business, and then helping you blast through it. So MANY UYB students have shared over the years that the mindset support was exactly the thing they needed (and didn't even realize they had mindset issues!).
UYB PRIVATE COMMUNITY GROUP
Let's be honest. Business can be super fucking lonely, especially when there's no one in your "real life" who gets it. That's why you get a year's access to a private community made up of your live cohorts in this round of UYB. The private UYB Facebook community has been the birthplace of many lifelong friendships, killer mastermind groups, and long-term client and working relationships!
Our expert marketing Program Coaches are in the UYB group every single day answering your questions and giving you feedback on your work. Don't get stuck in a program where you never get any help!
Submit your module Foundations work for written feedback from Becca and our UYB Program Coaches.
This is your chance to get detailed feedback on your niche, your message, your packages and pricing, and whether your foundations are solid and going to set you up for success.
Co-Working Sessions

(Monthly)
You and your fellow UYBers will come together to bang out 60 minutes of focused work together. These sessions are great for when you want to really zero in on a specific action task.
BFF Mastermind Sessions

(Monthly)
Need peer feedback? Want to bounce ideas around? You'll be able to work in small groups to support each other on whatever piece of UYB you're working on during our monthly BFF Mastermind Sessions.
About Page Edit Sessions

(Quarterly)
Once a quarter you can submit your About page to be considered for a professional edit from our pro Uncaged Copywriter. These sessions are live on zoom and you get to watch our writer transform one about page into a professionally written page. These sessions are copywriting GOLD and you will learn SO much about how to connect with your clients AND you might even be rewarded with a professional edit of your own page!
Do I need to attend all the calls for an entire year to succeed?
Definitely not! The core modules of Uncage Your Business are designed to be completed in 8 weeks (give or take!). You will have your niche, your messaging, your packages, your pricing, and clients in the door by the end of the core curriculum! Our coaching calls are there to support you during the core curriculum as well as through the rest of the year, so that as you refine your work, create new programs, and grow your business, you are never left hanging without support! You can drop in and out as it fits your schedule!
BUT HOLD UP, THAT'S NOT ALL
I wanted to make sure you had absolutely EVERYTHING you need to build your business. That's right, I'm talking about
YOUR 3-MONTH IN-DEPTH MARKETING PLAN ($497 VALUE)
For how to get your next 10 clients - exactly what you need to do each day, week, and month! This is a detailed, in-depth, and aggressive client-getting plan that I developed with some of my smartest and most successful business colleagues - no more guessing what you should be doing to get clients next. We will tell you exactly what to do day by day, week by week, and month by month - no fluff or time-wasting tasks included.
COPYWRITING TEMPLATES ($497 VALUE)
for your ENTIRE WEBSITE (about page, sales page, home page, services page, contact page, opt-in page, and 404 page)
WEBSITE TRAINING ($197 VALUE)
What Your Website Needs To Convert Sales - a video walkthrough of what a winning site looks like, with wireframes you can use as a guide when you create your own website
TESTIMONIALS TEMPLATE ($97 VALUE)
Testimonials Template to help you gather and shape info so you have the social proof to back you up - after all, testimonials basically sell your services for you!
BLOGGING + CONTENT CREATION BONUS ($97 VALUE)
Never struggle to figure out what to create again with this handy bonus
HOW TO CREATE A FREEBIE THAT WILL GROW YOUR EMAIL LIST ($97 VALUE)
Emails lists are NOT dead and you need one! Create an awesome freebie that will make it easy for people to join your list!
CONSULTS THAT SELL ($97 VALUE)
How to do consults that sell with Kendrick Shope -- never get on an awkward consult call again. Learn exactly how to convert like a BOSS on your calls.
UYB COMES WITH AN INCREDIBLE
BONUS GUEST EXPERT TRAINING VAULT
TO KEEP YOU MOVING AND GROWING AFTER THE PROGRAM ENDS ($1000+ VALUE)
How to Nail Your Sales and Money Mindset to Earn More with Erin Lindstrom
Building an Equitable, Diverse and Anti-Racist Business as a Coach with Trudi Lebron
Pritect your butt in your new business with contracts with Jaime Bell
How to Use Instagram to Get Clients (Even if You Don't Have a Website Yet) with Elise Darma
Simple 5 Min a Day Visibility Strategy to Bring in Leads Fast with Michelle Warner
When Someone Says They Can't Afford It (OBJECTIONS) with Kendrick Shope
Bookkeeping and Managing Your Money as a New Business with Chioma Njoku
How to Get Started with Email Marketing and List Building with Mike Koziol
Leveraging LinkedIn to Grow Your Business and Referrals with Kiva Slade
How to Land Corporate Coaching Clients Who Pay the Big Bucks with Jenn Barley and Karen Sullivan
How to build your email list without a freebie with Elizabeth Goddard
How to get off the content hamster wheel and repurpose your content with Gemma Went
WHEN YOU PAY IN FULL YOU'LL ALSO GET A
FULL PITCHING-MADE-EASY BUNDLE
Your life (and business, obvs) will never be the same (if you're ready for that).
Bio template so you can write your bio with confidence to get your name out there like a pro
In other words, you'll be ARMED and READY to continue building on the momentum of this course like the REAL business owner you are.
I know it's an investment, but I've seen this program single-handedly CHANGE LIVES.
Moms staying home with their kids.
Writers, designers, and done-for-you service providers finally getting paid well for their work
Life coaches articulating their value so they finally can get paid by real clients, launch group programs, and run retreats around the world in the years that follow…
Your life (and business, obvs)

will never be the same

(if you're ready for that).
OK, BUT HOW DOES
THIS

HELP ME GET CLIENTS?
These foundations we teach in UYB are ESSENTIAL for getting clients! Unlike many marketing strategies that come and go (remember Periscope? lol), you NEED these foundations no matter which strategy you choose to use. You can't write blog posts, run Facebook ads, or create Instagram stories or webinars without the core foundations you develop in UYB.
Before UYB, you are likely putting out vague content that often misses the mark because you haven't done the leg-work to make sure your messaging, niche, and offers truly SPEAK to your potential-would be clients. So what happens? They scroll right past you! With UYB, you will learn how to speak directly to those clients, in their own language, so that they stop, click, and BUY from you. After UYB, you'll be so clear on how to speak to potential clients, you might even find yourself "picking up" clients in the local coffee shop.
explaining

what i do

has never been this easy!
Before UYB I felt like I was going in circles & overcomplicating this process. Now, just two weeks after UYB ended, I am running a brand new group program that I created in UYB, and I had NO problem finding  8 women to join it! I also confidently used my new pitch from UYB at the conference I attended & explaining what I do has never been this easy! If you feel stuck in your business, this is  the course for you. UYB is like a base for other things you will do!
- DOMI HANC, COACH AT 100 NEW THINGS TO TRY
becca is like

the super hero

of small business.
Becca is your women if you need to get clear and get a plan. She covers all the basis in a concise, easy to follow way that leaves you with an action plan! I do think her "get clear" thing is what she does best. I listened to the women in the group and honestly, was like "WHAT THE? You have NO idea what you are doing??" but then at the end of the month, a lot of them really did! Becca is like the super hero of small businesses.
- JANE HALTON, CHRISTIAN LIFE COACH
take this course before

wasting your money

on others
Before I signed up for UYB, I was directionless or trying to go to too many directions which was not helpful.
The biggest impact to was having a solid plan for my coaching business after UYB. I saved at least 6 months - 1 year of trial and error and waffling about and going nowhere. I am now very clear about what I do, who I serve and ready to start coaching and then getting clients!
You have a knack to make things simple but the results are so important and phenomenal to business.
After taking UYB, I am very clear on what to focus on. I have a message, a niche, 3 packages, clear pitch and am confident on the direction of my coaching business. I have focus!
IF YOU'RE STILL READING THIS
I know you're ready to go from feeling like you're watching on the sidelines, ogling people in facebook groups, envious while others make their dreams a reality….
4 FOUNDATIONS MODULES TO GET YOU CLEAR AND CONFIDENT IN YOUR BUSINESS Plus:
TO GETTING CLIENTS, MAKING MONEY, AND ACTUALLY FEELING CONFIDENT TO CALL YOURSELF A BUSINESS OWNER.
And that's exactly what uncage your business is going to help you do!
The best part?
You'll be too damn busy focusing on what it really takes to get and keep clients to bother with trendy tactics that only confuse or overwhelm you as a new business owner.
In just a few weeks, you can create a huge transformation in your new business…. So the only biz owner you'll wanna ogle is yourself.
(Ok that felt weird. You get it.)
Choose your preferred payment option, and you'll be redirected to the secure checkout page. You can pay with a credit card to make your payment, and Paypal is available if you pay in full. Please do not click out of the page after entering your payment -- it can take some time to process and we don't want you to get charged twice!
After you check out, head to your inbox and grab your course log-in info! You will be able to join our private group right away and meet your classmates and start on the first module today!
You just made the best investment in your business EVER! Get ready to have a blast this month. The whole UYB team and your new biz BFFs are waiting to meet you in the private UYB group! See you there!
Here's the Full Breakdown of UYB
When you join Uncage Your Business, you get LIFETIME ACCESS of all the trainings, bonuses and guest expert trainings included in:
Uncage Your Business 4 Core Modules 
Uncage Your Niche
Uncage Your Messaging
Uncage Your Packages & Pricing
Uncage your Marketing PLUS Mindset Trainings for each module.
** The core curriculum is designed to be completed over 8 weeks, so you can get those clients rolling in ASAP!
You also get ONE FULL YEAR of coaching, feedback and support including:
Live Q&A Coaching Calls every month
Copywriting Review Calls every month
Mindset-specific coaching every month
UYB Private Group one full year
Monthly Office Hours every month
Monthly Co-Working Sessions every month
Monthly BFF Mastermind Sessions every month
About Page Edit Sessions quarterly
PLUS these AMAZING Bonuses!
BONUS 1: 3-Month In Depth Marketing Plan
BONUS 2: Copy Templates for Your Website
BONUS 3: Blogging and Content Creation
BONUS 4: Creating a Freebie
BONUS 5: Website Training
BONUS 6: Testimonial Template
BONUS 7: Consults That Sell
BONUS 8: Guest Expert Training Vault
PLUS - JOIN BEFORE OCTOBER 14 AND GET ACCESS TO OUR SPECIAL 4-WEEK LIVE ROUND OF COACHING!!
PLUS!  PAY-IN-FULL-BONUS
FULL PITCHING-MADE-EASY BUNDLE
Pitch template + training so you can pitch yourself for media opportunities on podcasts, guest posts, and interviews to build your visibility and credibility FAST (Becca's exact pitch template included!)
($197 value)
Bio template so you can write your bio with confidence to get your name out there like a pro ($97 value)
Your Investment Today $3500

$2,997
or

$350

$297 a month For for 12 months.
For access to all the content, bonuses, templates, and a full year of coaching!